Dgrande's positioner line has been a pratical auxiliary equipment in several process of assembling and welding.
This equipment is mainly used in workplaces such as welding of steel structures and assembly of mechanical parts. It is widely used in the manufacturing industry of various steel structures such as flanges, pipe joints, etc. It can also be used as peripheral equipment and a robot to achieve automatic welding. It is one of the commonly used equipment in modern pipeline, container and steel structure manufacturing enterprises.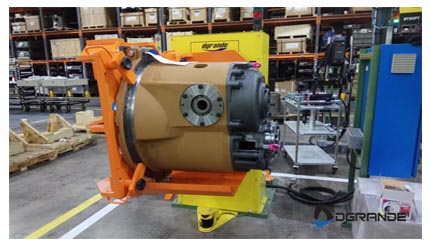 Dgrande's welding positioners, model MPS, are a 2-Axis equipment which is provided of a heavy duty integrated tilt gear to blend strength and smooth turning.
All welding positioners from Dgrande offers precise, repeatable and safe positioning of assemblies for welding. Better positioning results in higher quality welds, improved productivity and lowered risk of operator injury.
Other models of welding positioner manufactured by Dgrande:
Lifting type double-column rotary – This equipment is mainly used to solve the welding problem of high-position welds. At the same time, it can provide a lower installation position, making it easier for the workpiece to be clamped. In combination with a single-turn or double-turn mechanism, the welded members that are clamped on the workbench can get a more ideal welding position. This positioner is mainly used for welding and assembly of parts. 
It raises and turning the worktable to make the workpiece in the optimal welding or assembly position, and can be combined with the welding operation machine to form an automatic welding machine, which is one of the necessary equipment for modern enterprise production. Using it in production can greatly improve the welding quality, at the same time can reduce the number of work handling, reduce the labor intensity of workers, and improve work efficiency.
L-type – This equipment is an L-shaped structure, which has good openness, suitable workpiece clamping height, convenient welding operation, and is suitable for structural parts with a large number of weld positions. When welding, the welding seam is in the optimal position, avoiding the overhead welding and vertical welding, ensuring the welding quality, and changing the welding position according to the welding seam requirements of the workpiece.  The welding positioner guarantees safety during the welding and turning of the workpiece reduces the labor intensity of the operator and improves labor productivity. Rotating, turning and lifting all adopt high-precision AC servo drive system, which can accurately position the workpiece and ensure the position accuracy of the workpiece in space.
If you need welding positioners count on Dgrande.
Please, fell free to contact us at [email protected].